Currently viewing the tag: "health care"
The idea of killing off an entire Family of insects seems wrong on its face, But who would miss Mosquitoes? Why not kill them all?
Continue Reading

→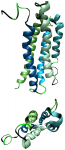 If you're even slightly geeky, or very socially conscientious, then you've probably heard of applications like "Folding @ home," where your computer's graphics processor runs complex calculations, simulating how proteins are folded to find solutions for disease & health problems.
This post is a roundup of different apps you can download to effortlessly let your computer contribute to a better world when you're not using it.
Continue Reading

→
I came across a well designed interactive flash infographic widget to showcase comments.
Continue Reading

→