Currently viewing the tag: "Lawn Care"
How I got excellent results, thick and healthy turf, and what I learned when I rented an Overseeder machine. Seed your lawn the right way.
This article aims to answer the What, When, and How questions you'll have about over-seeding your lawn if you've never done it before.
Continue Reading

→
Here's my back yard patio project design. I made this in SketchUp, and I'll post more when the project becomes reality.
Continue Reading

→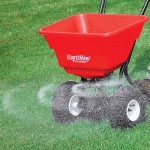 This Spring when a sea of dandelions washed over my lawn, I took it personally. The following is what I've learned about cultivating pride in your yard's turf, and turning your weed-patch into a respectable lawn.
Continue Reading

→