Currently viewing the tag: "Wall Street"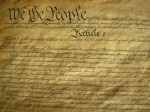 1.) Only voters can contribute to campaigns. 2.) Each voter (U.S. citizens over the age of 18) can contribute a maximum of 3% of last year's Median Household Income to each campaign, annually.
Continue Reading

→
2009, mid-market-meltdown, a guy from Morgan Stanley thought this license plate would be a smart idea. No wonder the economy collapsed.
Continue Reading

→