I couldn't figure out why my WordPress RSS feed wasn't working (Google Chrome browser said there was an "encoding error".) Finally after hours of researching, I narrowed it down to a plugin, specifically the settings I had chosen in the YARPP plugin for the "Display Options for RSS" section.
I believe the conflict was due to my checking "Display related posts in the Descriptions" in the YARPP settings, and then later electing to display full posts in my feed (not just excerpts) in the WordPress Admin settings.
I have to give credit to Internet Explorer here, because I wasn't really getting good troubleshooting clues from Chrome, but IE "explained" the feed error in a different way which helped me better understand that the error would occur in the Related Posts section of a post. After that I was able to figure out the problem quickly.  Before this I was looking for "Invalid Characters" like an ampersand, and coming up with zilch.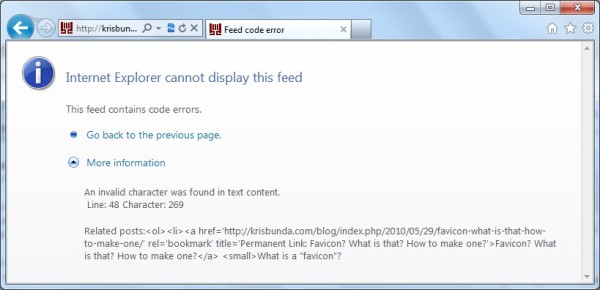 I like YARPP plugin – it's very helpful and feature-rich, just had this error that took way to long to figure out (which was due to my ineptitude). Also, I couldn't find anything on Google about this, so hopefully this helps someone out there.