Figuring How Much Foam Board to Purchase
I like to figure material purchases out beforehand, because when it comes to getting bulky items from a home center, I either have to clear out my minivan (child seats and whatnot), borrow a pickup truck, or buy enough stuff to get the home center to deliver. So if I buy too much and want to take some back, or didn't get enough, it's a pain.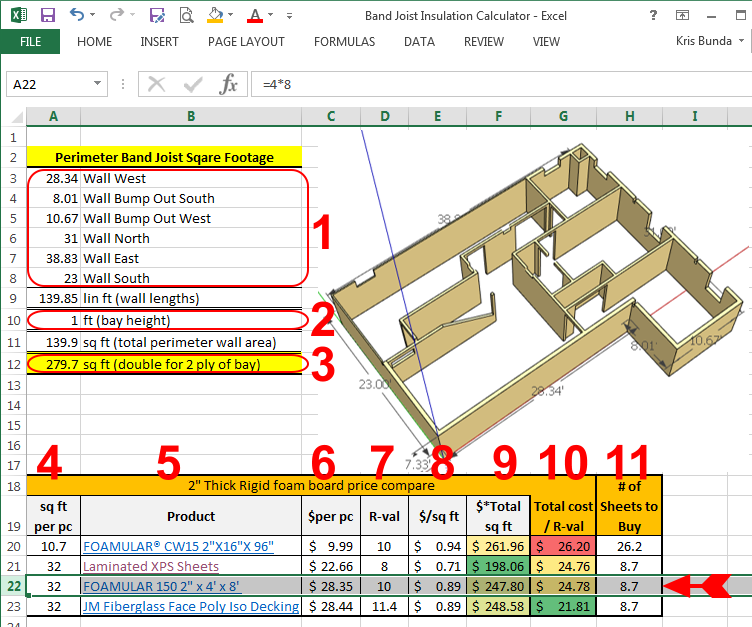 Attached is a spreadsheet for calculating How Many Sheets to buy. Here's how to use it:
Figure Square Footage
1. Figure out the perimeter of your foundation
Write each wall length (in feet) in the left column, name them if desired in the right..
If you have more than 6 walls, right-click on one of the the row numbers 3 through 8 and click "Insert". (example: Row Numbers are on the left, you right-click right on a number and choose "insert").

If you have less than 6 walls, just enter 0 or leave blank the extras.
2. Enter in a joist bay height (in feet)
I put in 1ft to add a cushion. If you really want to get it more on the nose, try 9″ (convert to "0.75" for ft), if you have 2″x10″ joists.
I ended up with 2 extra whole sheets because I wasn't sure how much scrap there'd be, so take it from me and be more accurate with your inputs.
3. This cell doubles the square footage
Since you'll probably need more R-Value than one 2″ thick sheet will afford.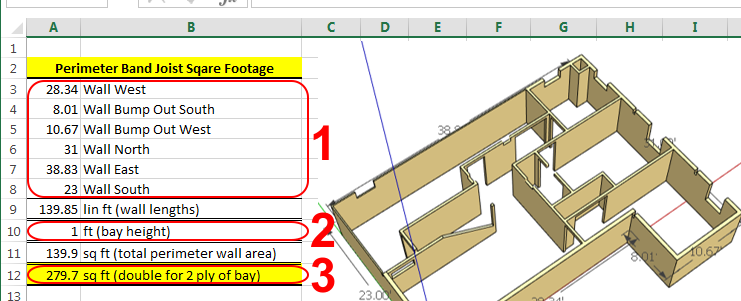 Product Data: Find some sheets of products on Home Center websites, start entering in their specs
4. Sq Ft per each sheet
5. Name of the product
(I hyperlinked to the home center's product page for printing out later)
6. Price per sheet
7. R-Value per sheet thickness
8. This cell tells you the cost per square foot of the material
9. Here's your Approx Total Cost
Total Sq Ft x Cost per Sq Ft (#3 X #8)
The green cell is the lowest cost per unit of feet
10. Cost per R-Value
Takes total cost divided by R-Val per Sheet Thickness (#9 / #7)
11. The number of sheets to buy

---
Red Arrow shows the product I chose. Why?
Why not the 16″ wide sheets?
Frankly, I don't know what these are for… do they fit between the ribs on pole barn roofs? My joists are 16″

on center

, meaning there's actually about 15″ between the boards. So I would have to trim each of these foam sheets down from 16″ wide to about 14.25″ or so (to leave a gap for  spray foam). A big long cut for nothing.
And they're the most expensive total cost (the red cell under "Total Cost / R-val", red equals worst value.)

Why not the Laminated XPS sheets?
No idea. Now it looks like a decent option. I'm guessing the lowest R-val per joist bay for the same amount of work as the others convinced me. It has the lowest TOTAL COST to cover the sq.ft., but it would cost about the same as Foamular 150 4×8′ when R-val is factored in. And it may not even had enough R-val in 2 ply to qualify for the rebate program…
I also don't think this material holds up as well to moisture.
Why

the Foamular 150 2″ thick?
I think I ran into a big stack at the home center with a "$23.50 per Sheet" sign on them, and made my little spreadsheet go out the window.
I also think it had to do with ease of working with the material.
Why not the Poly Iso Roof Decking?
I really wanted to use Poly Iso material, because I'm under the impression it deals with condensation and other moisture better than Poly Styrene, and has a better R-val profile. .
And I didn't know about the idea of cutting through the fiberglass layers–is that going to wear my blades down faster? Do I have to wear a respirator? Seems like this stuff is made for putting on large flat roofs so it doesn't need to be cut into little pieces 35 times per sheet–could be a real pain in the ass…
---
See Next Page for Foam Board Sheet Efficient-Cutting Diagram