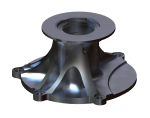 3D CAD: Modeling a High Performance Engine Part [How To]
Reverse Engineering a Part.
Someone needed a high performance engine part shortened by 5/8″, so I measured the part with a caliper and sketched it in SolidWorks so I could reduce the height of the piece for it to be produced in a CNC milling machine.
Screenshot Tutorial:
If you're familiar with SolidWorks, you'll be able to get the gist of how I modeled this part from the screen shots. You'll be able to pick up on when I was sketching, when I extruded a solid or a cut, when I inserted a plane or a fillet, etc. If you are working on a project and think this model can help, but you're unclear on a step, comment or email me and I'll try to help.