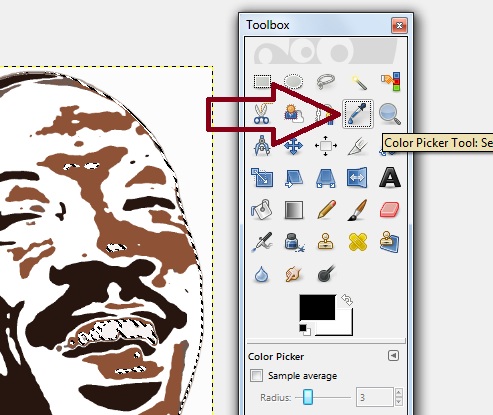 Then I started selecting various regions of color to paint the darkest color (which I selected with the Color Picker Tool). The tool to pick pick single regions of a color instead of ALL REGIONS of the same color is the "Fuzzy Select Tool" (I believe it's called "Magic Wand Tool" in PhotoShop.)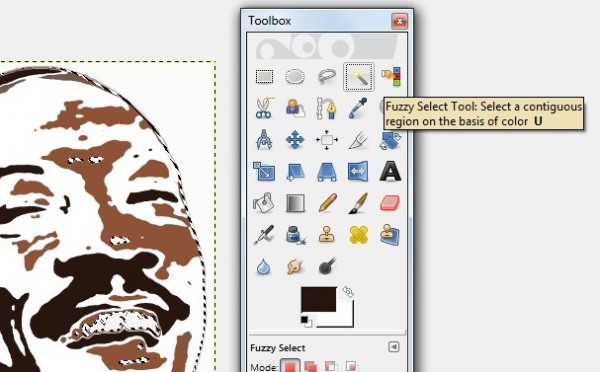 To paint selections, I usually prefer the "Air Brush Tool". Here's a screenshot of selecting a region, then painting only part of that region. The cool thing is: the paint will only go within the selection boundaries. In this screenshot I've circled the area I selected with the Fuzzy Select Tool (his eye/eyebrow region), and the default paint color was already selected using the Color Picker Tool in a previous step. Then I moved the Airbrush Tool's "Scale" slider to 100% so it paints a larger area, as I prefer it this way.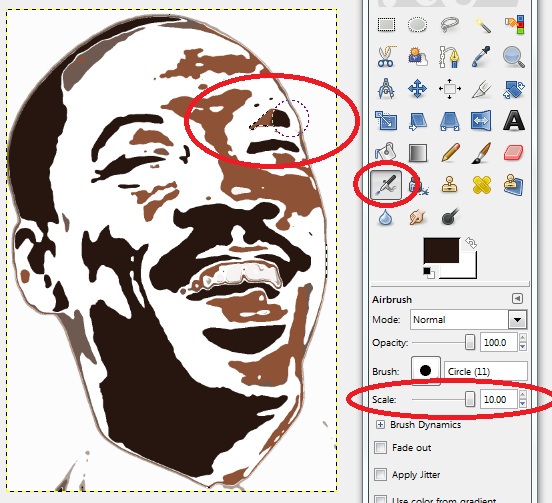 So I just played around with painting parts of various color regions to my liking, and then deleting the color region that was left by selecting it with Fuzzy Select Tool and pressing "Delete". You can figure this out even if you've never used a PhotoShop-type application before.
Here's what I ended up with after photo editing: