This is what I woke up to:
It just got worse from there.
My Brother In Law snow blow-ed the drive at 10am, and the drift around the car was back half-as-high an hour later… and bigger than before not long after that.
About 11am, the neighbor across the street got his Grand Am stuck on the street in front of my house (where the truck is in the photo).
Winter Advisory
Now it's almost whiteout conditions (3pm).  This is the 4th time this has happened in a month (this much snow and drifting in front of my house).  I think it's time to either plant a hedge row, or erect a snow fence.  The drift in this photo isn't the same one from the photo above — that one was completely removed and then this one formed within a couple hours.
Strange Formations
Check out these strange formations, and keep in mind that I didn't have my garage door opened all day.  This is all snow that accumulated from about 6am through 3pm, all blown through the cracks between the garage door segments and perimeter.  The reason it's interesting to me is because these drifts "grew upward" throughout the day, like a stalagmite (stalactite?) that grows up from the bottom of a cave… but there's not corresponding precipitation from above in this scenario.  There's no big snow formation attached to the ceiling above.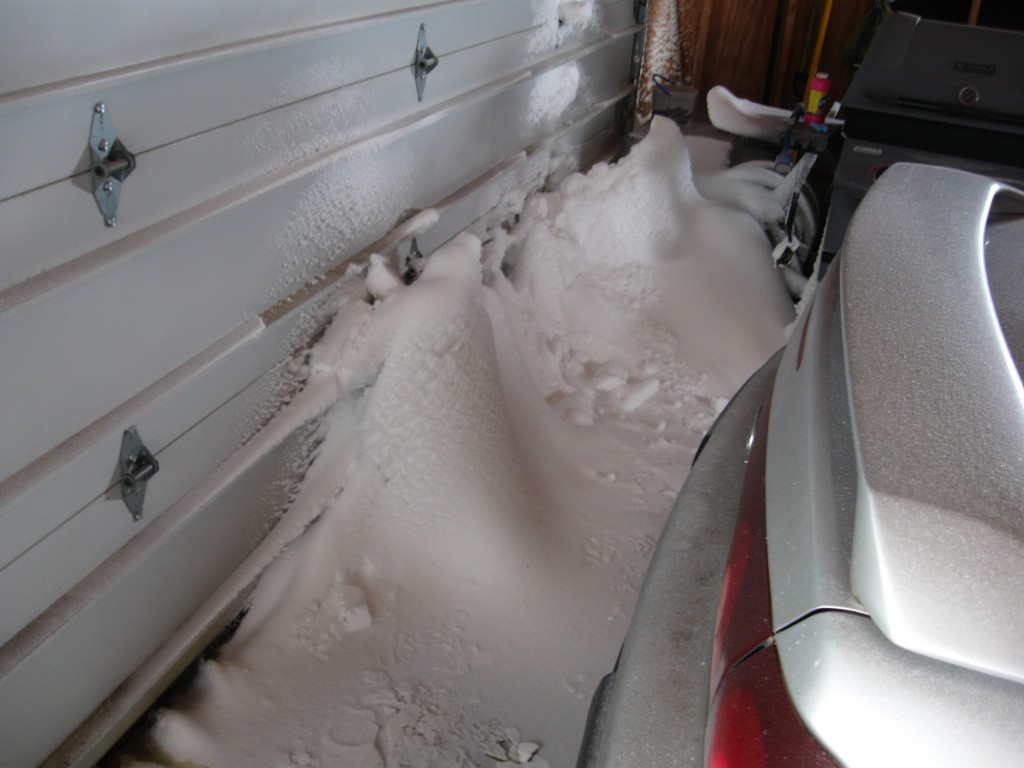 Aftermath
Here I am the next day; our neighbor cleaned out the drive except for this drift… looks like my wife is going to have some serious shoveling ahead of her if she wants to go anywhere : )