Sew Nice
Holly taught herself to sew about a year ago, and she's since channelled some of her incredible creativity through the medium.
One project Holly's been making iterations of is the "Quiet Book," with felt cloth
pages and sewn or fabric-glued components.
Each page or spread presents a game or activity to keep a toddler entertained, engaged, and even learning. For example, our little Max would point to the letters and say what they are. That kept him engaged in conversation (he didn't start talking until later than our other two, so any talking was good to hear). Max–just turned 3–still gets the books out of his own volition, and sits to do the various activities.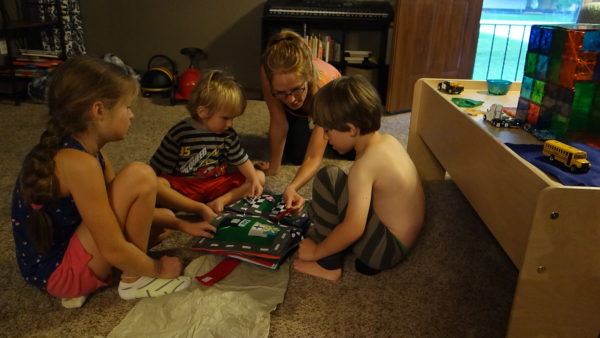 Photos of In-Progress and Finished Pages from Holly's Latest 2 Quiet Books
See below for photos of the latest 2 books Holly made (one for Max, and one for his friend Piper).
Some of the pages are Holly's take on ideas found in Google Image search and from Etsy quiet book sellers. Others are wholly original concepts.
Enjoy the photos, and send an email if you want Holly to make a custom activity book for you.
Pages Ready for Assembly:
Next page: See the finished books and how to bind them