The Good Customer Service Story; Some Installation Pics
Can I even use a Nest t-stat on my system?
That was my question. After reading several stories about people saving enough money with these over time to pay for themselves ($250 for a single-zone programmable t-stat sounds ridiculous otherwise), I decided I wanted one. I also took the precaution to download the last 5 years of gas and electricity usage for my home from my utility company. Perhaps in a year or two I'll make a comparison post.
To find out if Nest would work with my current wiring, I emailed Nest service and they asked for a photo of my current t-stat's wiring. I sent them the following pics and they sent me back a customized wiring diagram, even going so far as to change the color of the wire that goes into Y1 terminal to blue, as it is colored at my house. (A nice touch and thoughtful detail since when using the consumer version of the wiring configurator on their site, the Y1 wire will always appear yellow, and that may confuse some installers).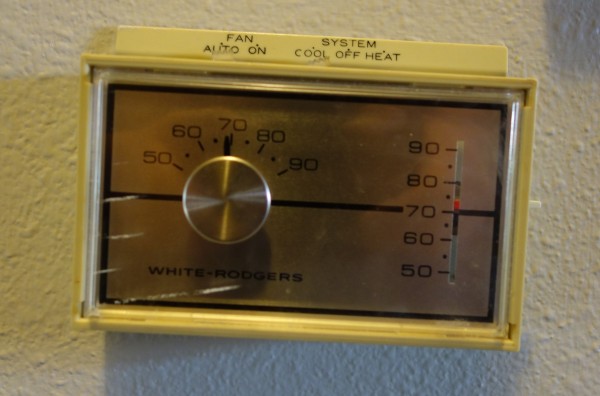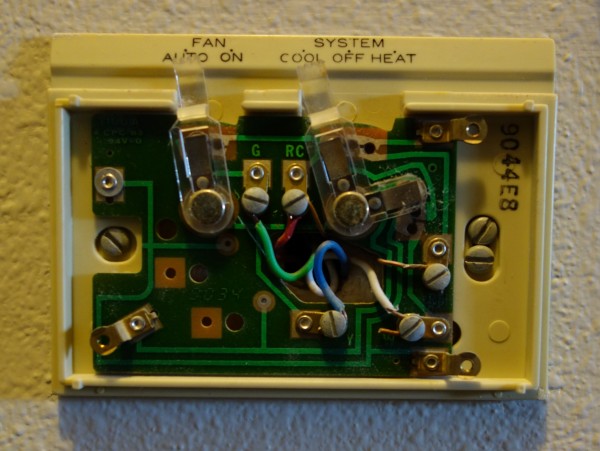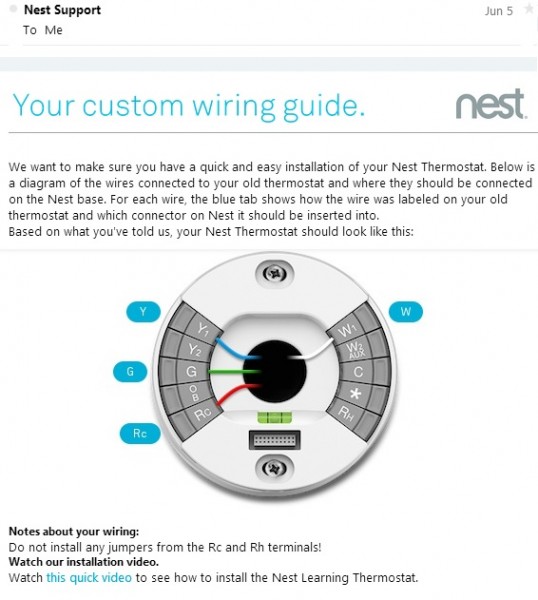 Installation
Read the simple instruction booklet from the Nest box.
Print or have tablet/phone/laptop copy of your wiring diagram ready.
Go to your breaker box and shut off the HVAC mechanical equipment. In my case, 2 large 30 amp breakers for the air conditioner and a 20 amp breaker for the forced-air furnace fan (the heat is natural gas).
Remove wires from old controller thermostat, but put your letter stickers on them if you think that's helpful.
This is where:

I taught the children how to spackle and let them get their fingers messy.
My wife slapped a couple coats of paint on the rectangular unpainted void left by the old t-stat.
This way I didn't have to use a backer plate and could take advantage of a sleeker look.

I inserted the wires in the terminal ring, screwed it into the drywall using the included Nest screwdriver (these should be self tapping screws into soft drywall for many people, and as long as you don't over-tighten, you'll be solid).
I pushed the t-stat onto the terminal ring until a click was heard, as per instructions.
I turned on the breakers.
Everything worked like a charm (except the wi-fi thing, see beginning of post).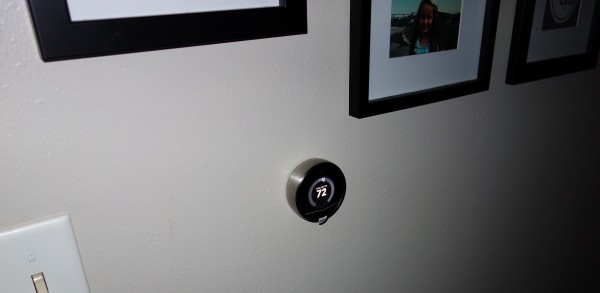 ---
UPDATE: Almost 2 Years of Utility Bills Later [Chart]
I'm not in any way convinced that almost 2 years of utility bills means anything statistically significant. But I downloaded 5yrs of billing data from my utility co. today and made an Excel line chart from it anyway.
In my opinion, this last winter (the season I spend the most on energy) was abnormally warm. The year before that may have been average or cooler, but I don't know. Perhaps it would make more sense if I listed the "therms" used in this chart, since my furnace uses natural gas, and how many were used per year could be a better indicator of efficiency changes. Especially if you consider that rates charged per energy unit will change over time, maybe Dollars aren't the best measure to isolate the effects of a thermostat or insulation change. So included is a Therms Used chart also.
Pre-chart-period, we added a bunch of cellulose insulation to our attic, and a year ago I pulled out all the fiberglass bats from the band joist and replaced with cut-and-fitted 4″ of pink foam board with spray foamed gaps. I really feel that made a difference, and will pay for itself within 7yrs or less.
Notes on what other HVAC equipment was changed during the charted period: Nothing, really. We got a new furnace and barely-used central AC external unit installed in the summer of 2009, and that equipment hasn't changed since. The hot water heater is still pre-chart-period.
Here's the charts, for what it's worth.