I coach a team of 6 Jr. FIRST Lego Leaguers this year. One exercise we did was to come up with our team name, which was finally decided on as "St. Paul Builders".
Then, for another day's exercise, we were to build consensus on the constituents of a team logo. We drew 6 sections on a big piece of paper, and in those sections each kid drew visualizations of what they think of on the topic of Lego League. Kitties were a big topic. And then someone drew a spider web, which seemed appropriate, considering spiders are "Master Builders
". So that caught on. Another theme that started to spread like wildfire was what I thought was a castle turret. And I kept calling it a castle, and no one corrected me. Why would there be a castle turret? Because why would there be a spider web. 
I kept calling it a castle, and no one corrected me.
When All You Have is a Medieval War Hammer, Every Problem Looks Like Chain Mail
So I took this castle theme home and thought I'd try to unite it with the other popular ideas of the day: Kitties
(almost universal appeal), and the spider web. As soon as I thought of a castle and a kitty, I thought of the Lannister lion banner "sigil"
from the medieval-themed Game of Thrones books
. So I Google Imaged "medieval lion banner".
You can see the screenshot from my graphics editing software below; I made a kitty in similar fashion to the lion woodcut-style image
, put some Lego in its paws (Lego
is like "sheep" in that both singular and plural forms are spelled the same, I've been informed). You can see the castle turrets in the background, along with the spider web.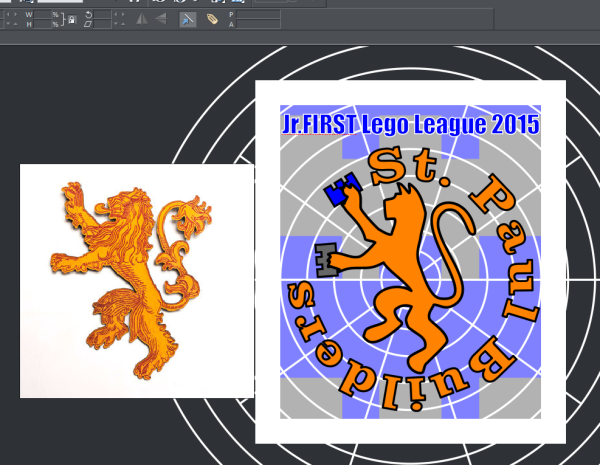 Well, my son or one of the other kids in the group finally informed me that those weren't castles. They were Lego. So the whole medieval theme was completely uncalled for.
Team Logo Variations
Here are some variations on a theme I made in the graphics program. We hope to get one of them incorporated into a tee shirt design with the other Lego League teams' logos from the school, for all of us to wear.